MH - Fuseina Mohamad
Sister Fuseina Mohamad was born in Seattle, WA to Ghanaian parents. Raised in Jeddah, Saudi Arabia, she returned to US and completed a Master's in Information Systems. She is a graduate of Dream Program in Classical Arabic as well as Qalam Institute's Islamic Seminary program. Sr. Fuseina developed and taught the world renowned Access Online Arabic Programs at Bayyinah. She continues her hifdh review and tajweed studies under the Critical Loyalty Institute. She is also currently completing the 4-year Qalam Aalimiyyah Program in Arlington, TX.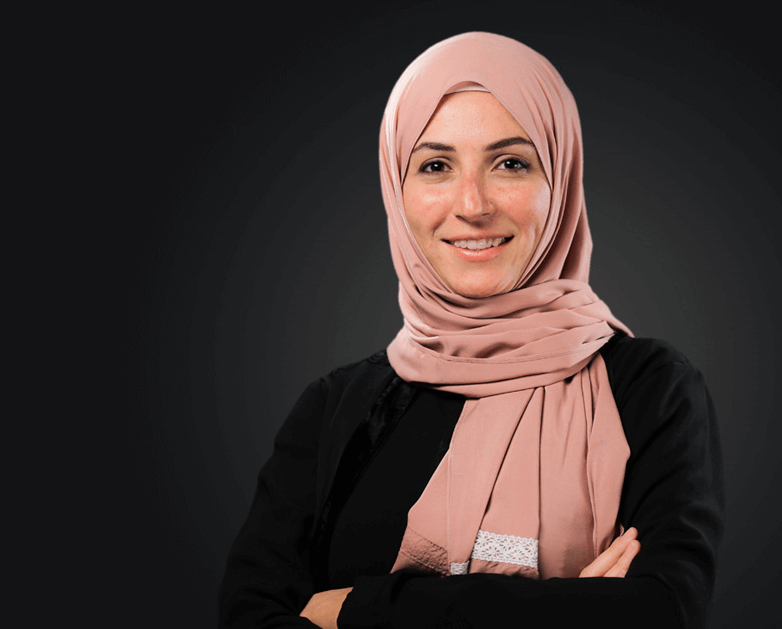 MH - Heba ElSawah
Writer, relationship and self-actualization life coach, Heba El Sawah is well-known for her "Living on Purpose" training course and "Soulmates" marital workshop. El Sawah majored in Business Administration at the American University and Naval Academy, then entered the training world and received a Certified Trainer Certification from a number of renowned Training institutes. She now lives with her husband and two children in Canada and works as a trainer at the Family Education Centre and as a volunteer at the Distress Centre. In January 2017, El Sawah published "Cinderella's Secret", a best-selling book now sold across Middle East.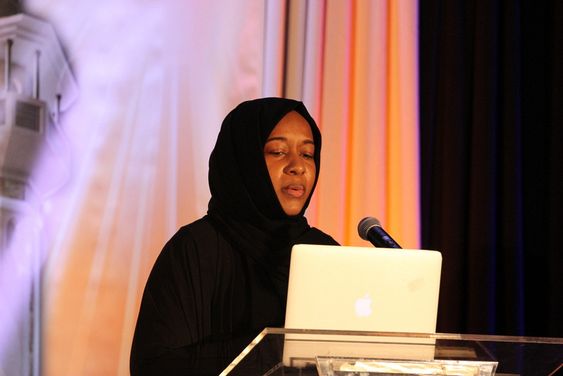 MH - Nuriddeen Knight
Nuriddeen Knight completed an MA in psychology with a focus on child and family from Columbia University. She studied traditional Islamic knowledge including fiqh, theology, spirituality and prophetic biography with local scholars and in Jordan. In 2015 she created Nooralshadhili.com, a holistic initiative focused on human development through education, research, and counseling. Her written work has been featured in thepublicdiscourse.com, mvslim.com, altmuslimah.com, sapelosquare.com, and thedemureist.com. She compiled a collection of 40 sayings from the prophet's life through the narration of Aisha(ra) and is currently working on its second edition. Since 2013 she's given several lectures on topics related to Islam, Mental Health Islam and Women's Issues.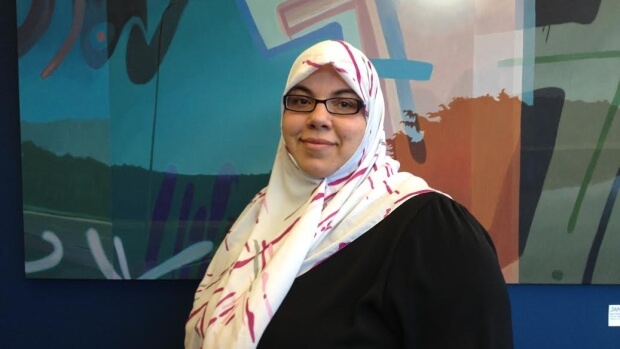 MH - Rania Lawendy
Rania Lawendy has a Masters in Educational Leadership. She is a first generation Canadian Muslim married with four children. She is one of the founders of the Kitchener Masjid, Islamic Centre of Waterloo, Masjid Aisha and Al Huda Weekend School. Currently serving as the principal of MAC Maple Grove School as well as Chaplain at University of Waterloo, in the past she has served on the national Board of Directors of MAC.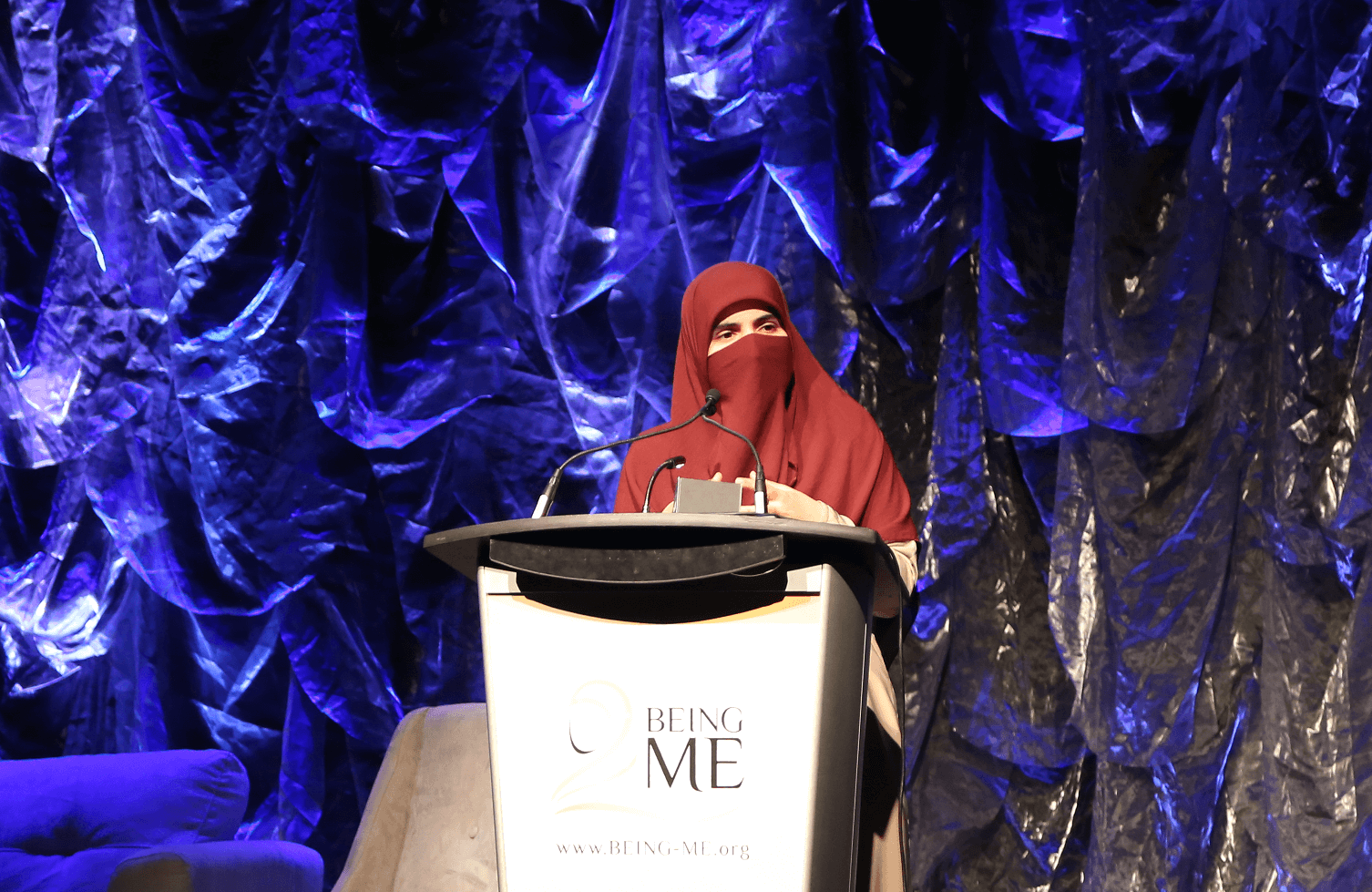 MH - Taimiyyah Zubair
Ustadha Taimiyyah Zubair is an established teacher of Quran with a focus on Tafsir and Word Analysis. She studied under her parents and scholars, Dr. Idrees Zubair and Dr. Farhat Hashmi (founders of Al Huda International). She has been a student and teacher, at Al Huda Institute, of various Islamic Sciences including Arabic Grammar, Hadith and Fiqh. Currently, Ustadha Taimiyyah is completing her Humanities degree with a President's Entrance Scholarship at the University of Waterloo. She also teaches around the world for AlMaghrib Institute.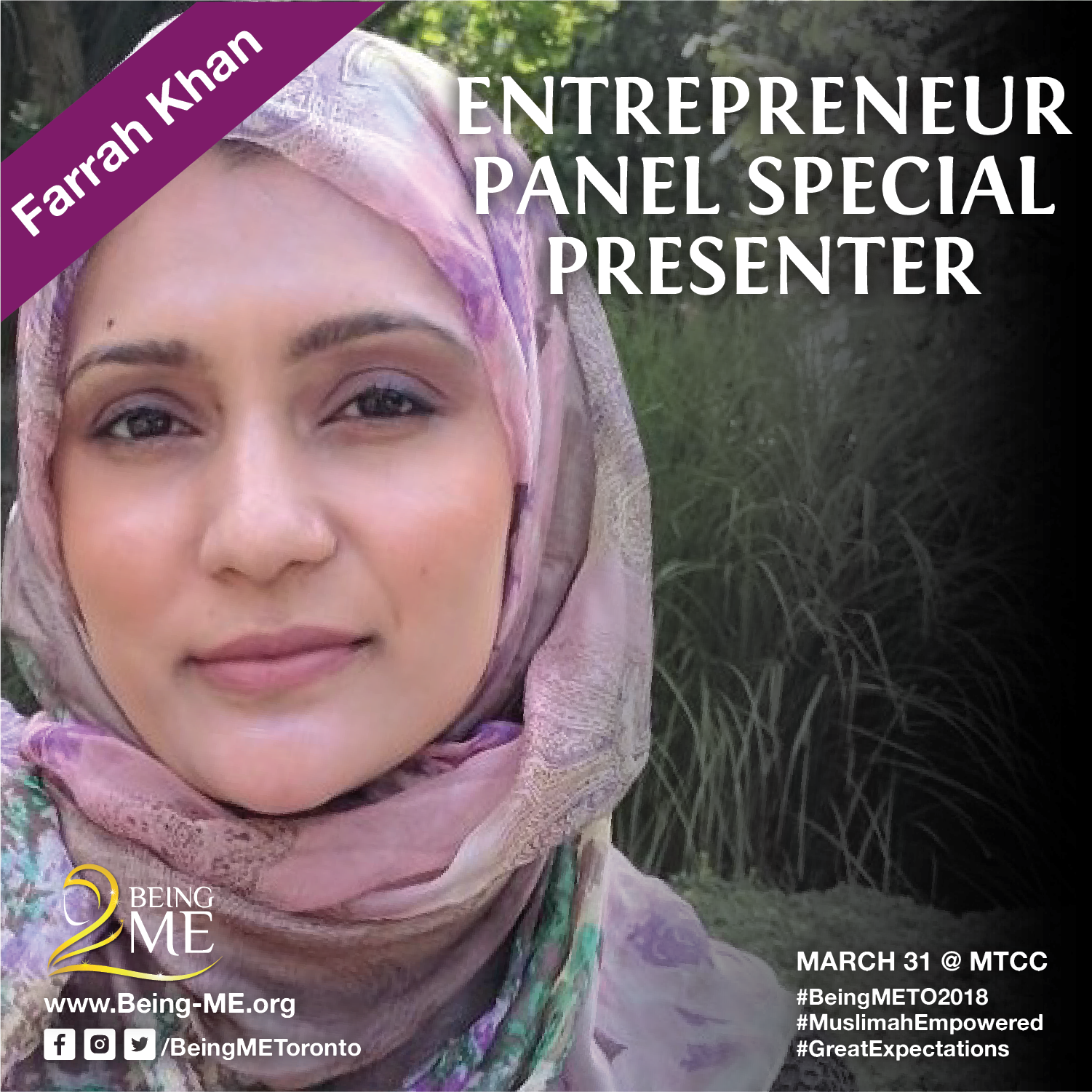 Presenter EP - Farrah Rasool Khan
Entrepreneur Extraordinaire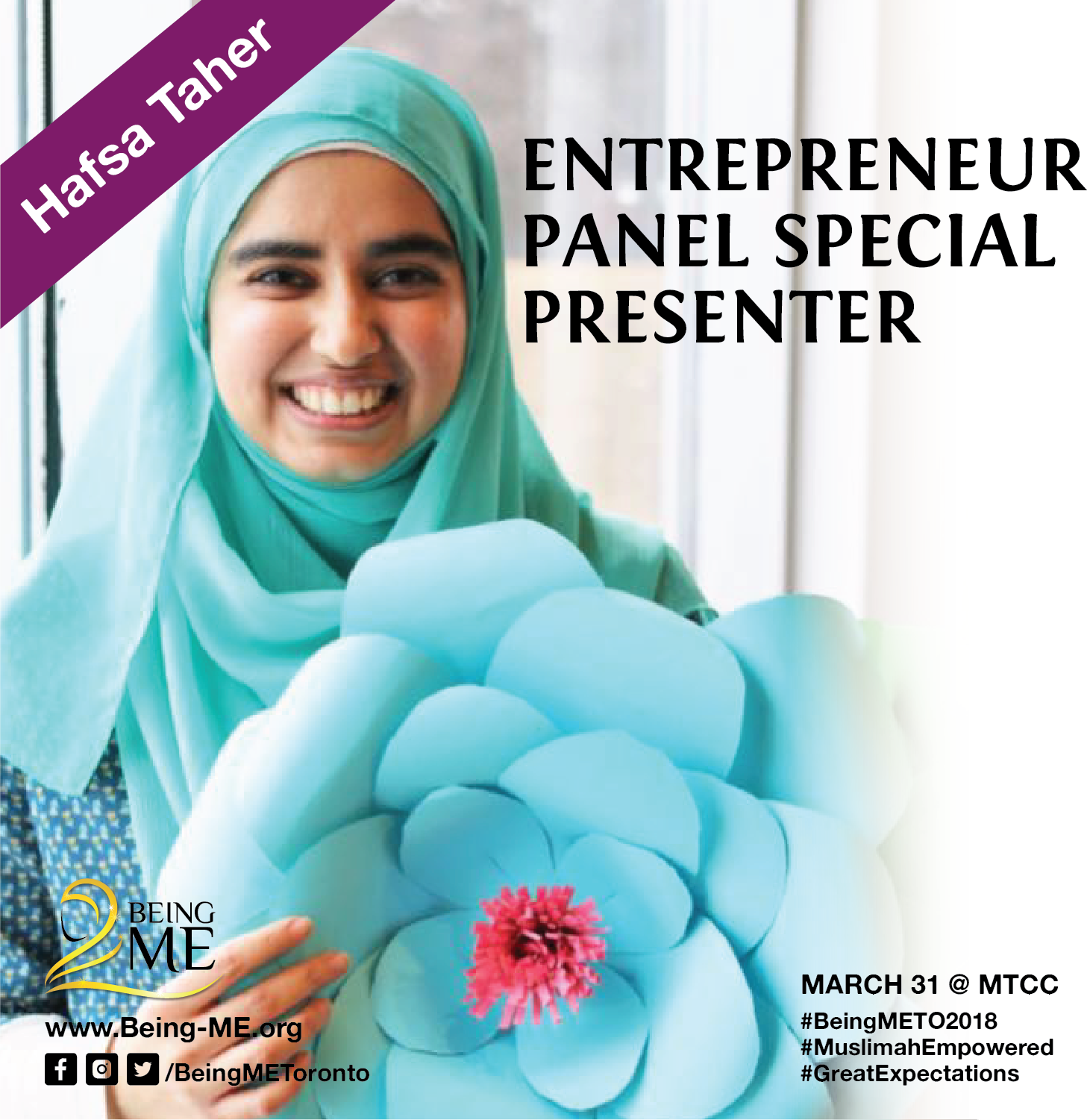 Presenter EP - Hafsa Taher
Innovator Extraordinaire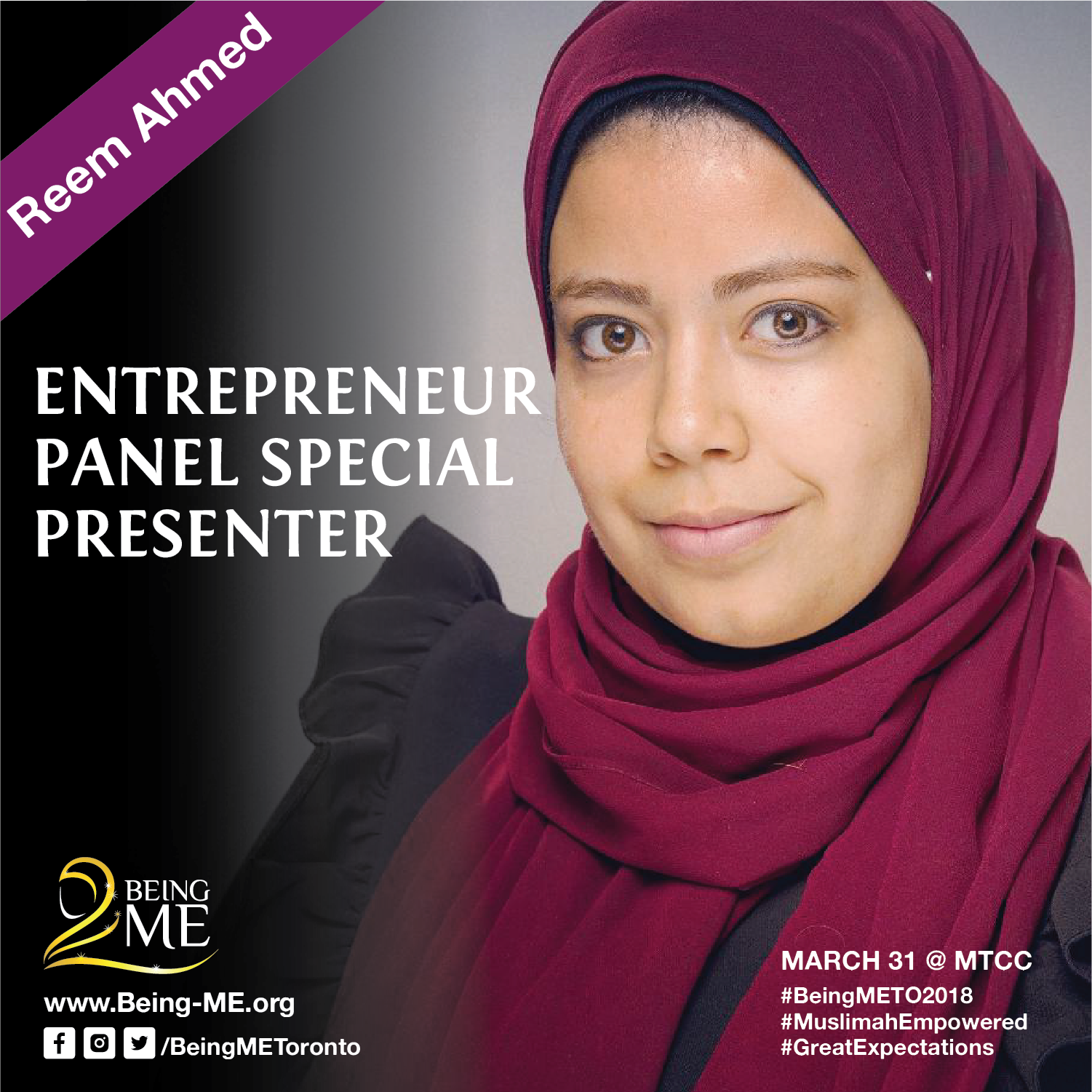 Presenter EP - Reem Ahmed
One of MasterChef Canada's Top 21 for Season 5, debuting April 3rd on CTV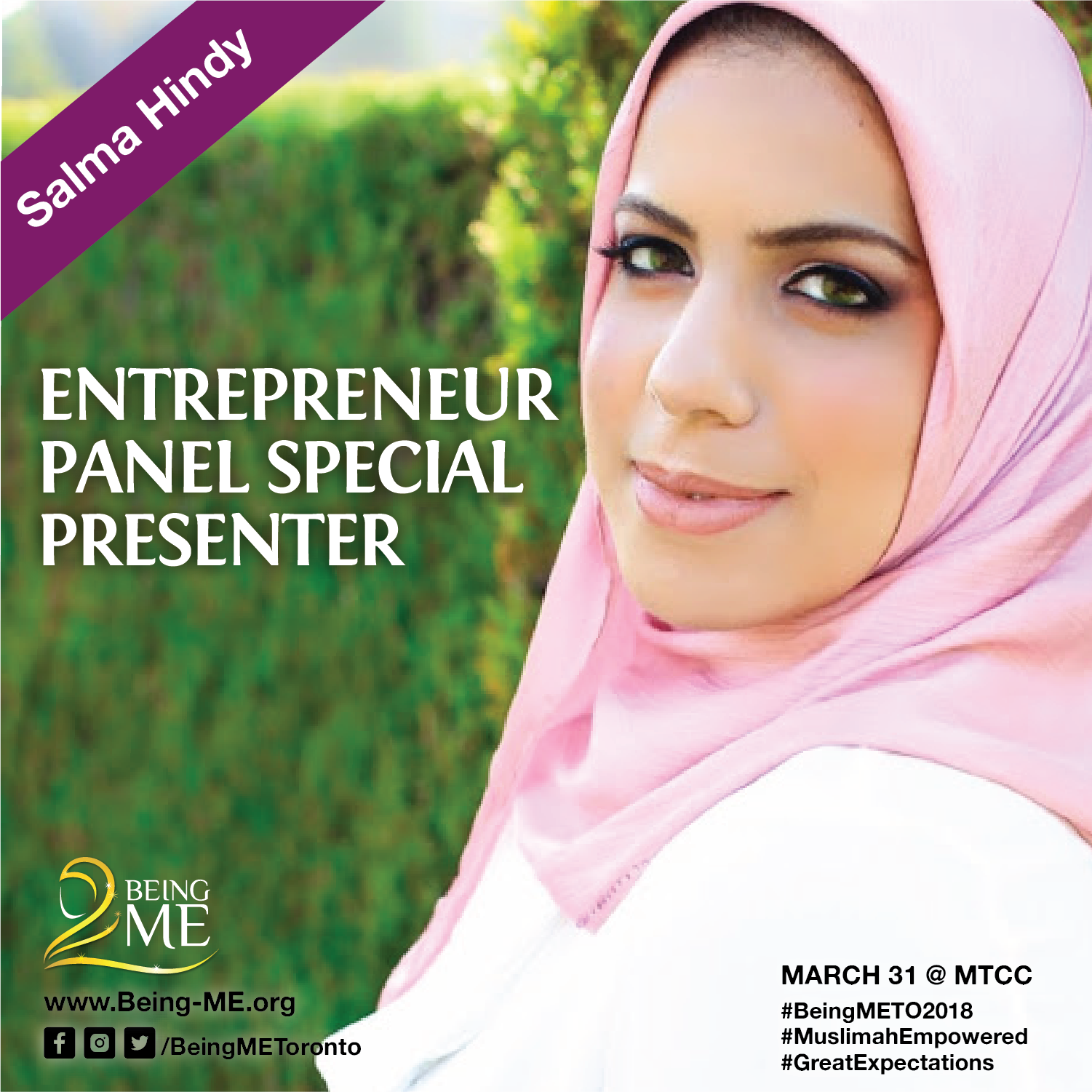 Presenter EP - Salma Hindy
Brand Extraordinaire. Stand Up Comedian.
Tutorial - Haseebah B
Dr Haseebah B. is a Certified Hijamah Therapist and a Dentist by profession. She has been practicing Holistic Hijamah Therapy (Both Dry and Wet Cupping) along with Cupping Massage and Prophetic Medicine for a number of years. Her mission is to revive and establish the Sunnah of Hijamah Cupping Therapy and promote natural health treatments. She is also associated with ISNA Canada and Muslim Welfare Association.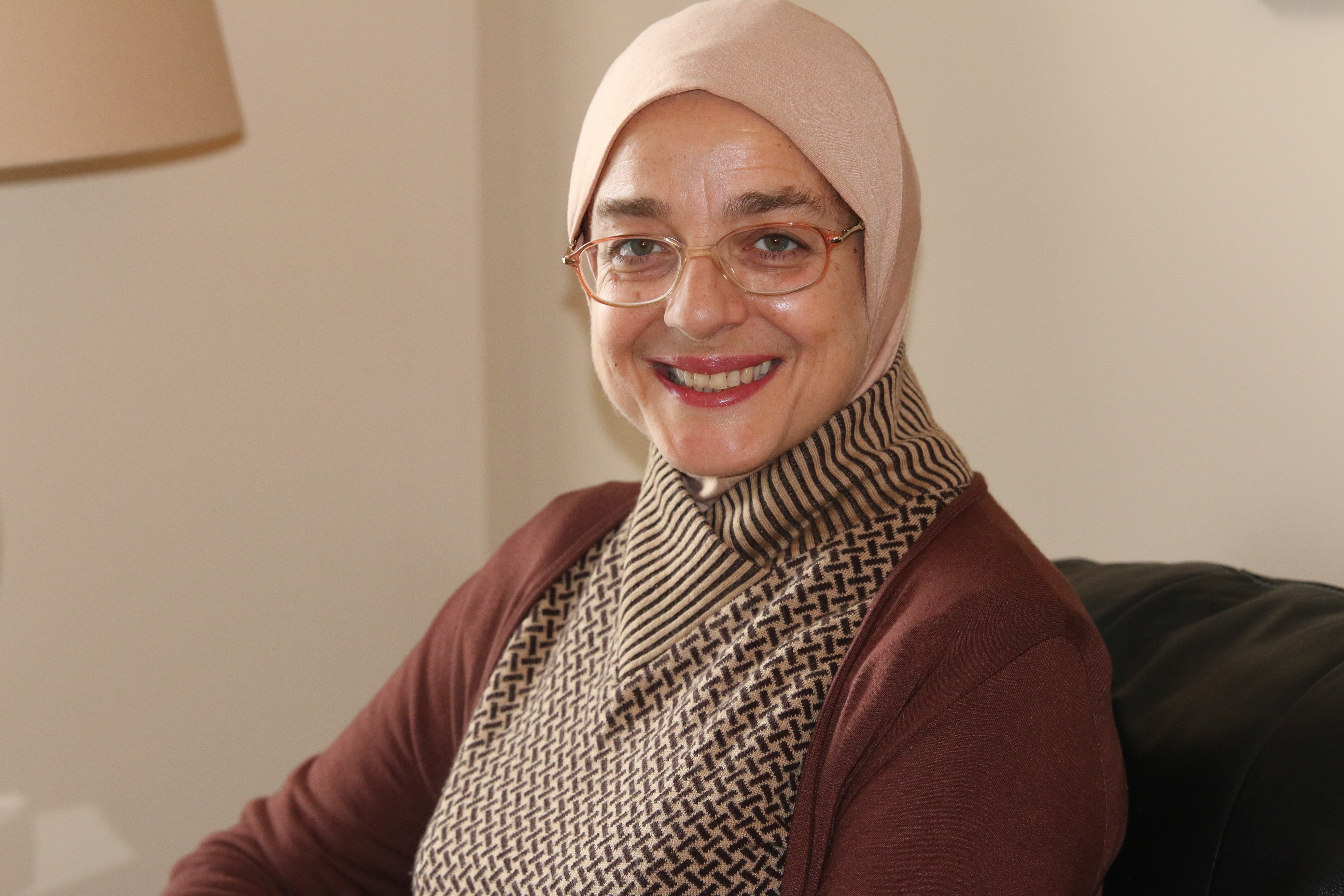 Workshop: Abier Elbarbary
A Registered Psychotherapist and Pastoral Counselor; she is the first Muslim student to graduate from the University of Toronto's Masters Program for Pastoral Studies (2014). This degree allowed her to combine Islamic Studies, Islamic Theology and Psycho-therapeutic counseling, a marriage of areas that are vital to her career. Currently she conducts individual and group therapy sessions for clients mostly in the local GTA and is a public presenter of topics around Mental Health awareness.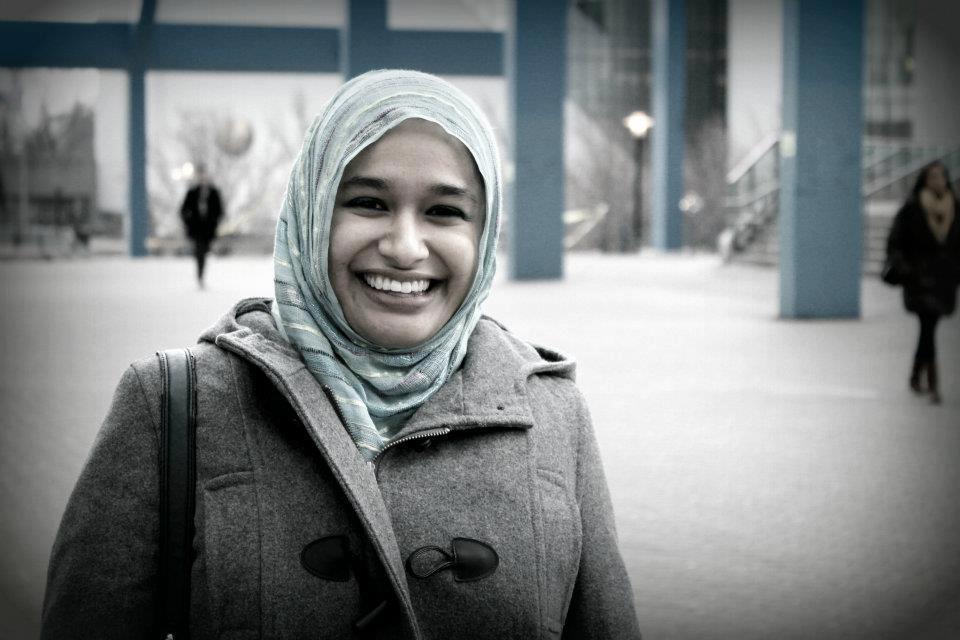 Workshop: Farah Islam
Dr. Farah Islam is a mental health advocate, educator, and researcher. Her focus is on on the mental health concerns and service access barriers of racialized and migrant communities with a particular interest in South Asian and Muslim populations. She completed her PhD in the epidemiology of mental health at York University and her postdoctoral fellowship at the University of Toronto and the Centre for Addiction and Mental Health (CAMH). She has taught the Psychology of Adolescence from an Islamic perspective at Islamic Online University (IOU) and is currently working as a Research Consultant at Access Alliance Multicultural Community and Health Services, in addition to teaching a course on Muslim Youth Mental Health at the Islamic Institute of Toronto (IIT).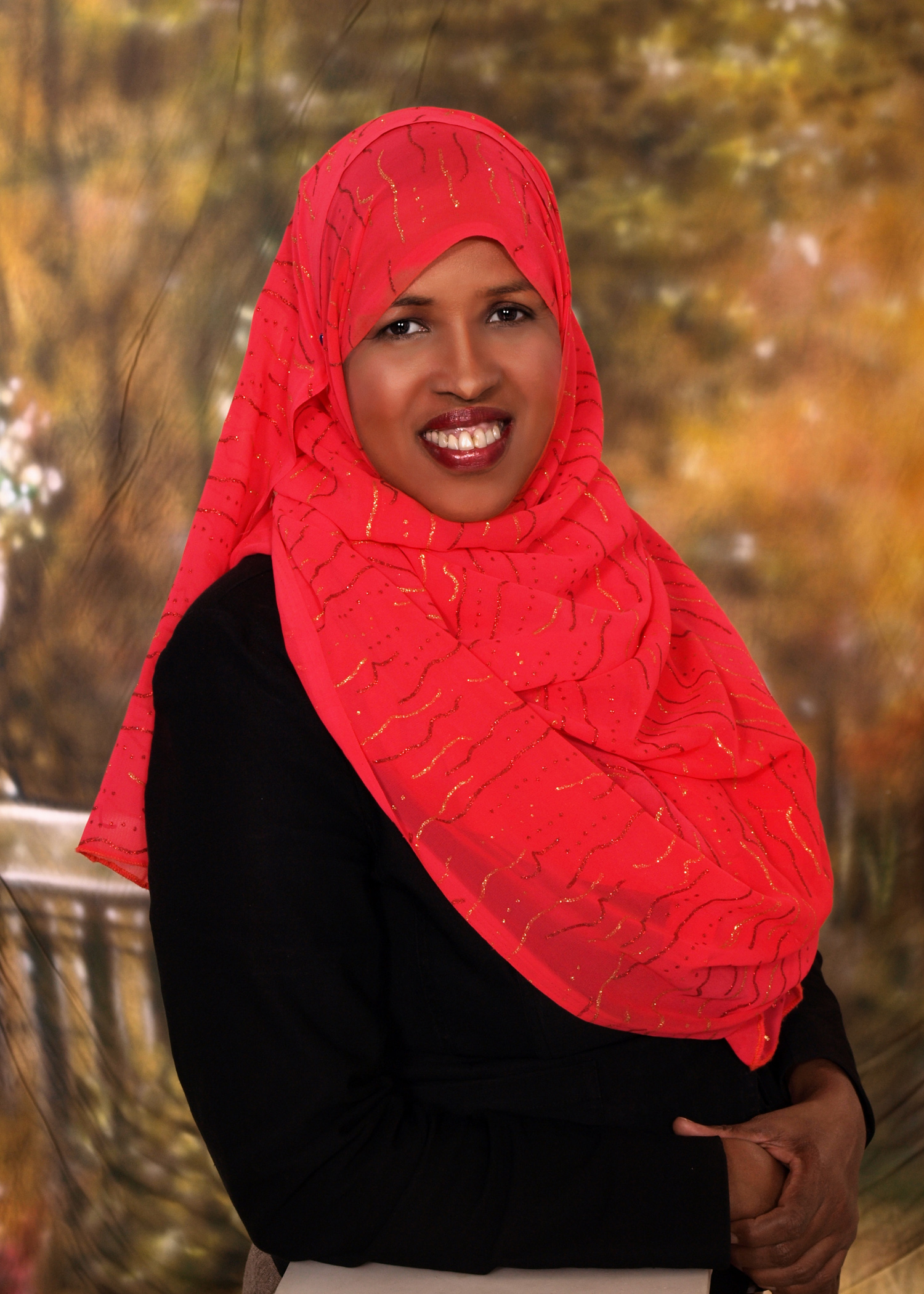 Workshop: Fartumo Kusow
Fartumo Kusow was born in Somalia and immigrated to Canada at the start of the civil war in Somalia. Her first novel, Amran, was serialized in October Star, Mogadishu. Since her arrival in Canada in 1991 she has earned a B. Arts Honours in English Language and Literature and B. Education from the U. of Windsor. She teaches English Literature for the Greater Essex County District School Board. A mother of five adult children, she lives in Windsor, Ontario.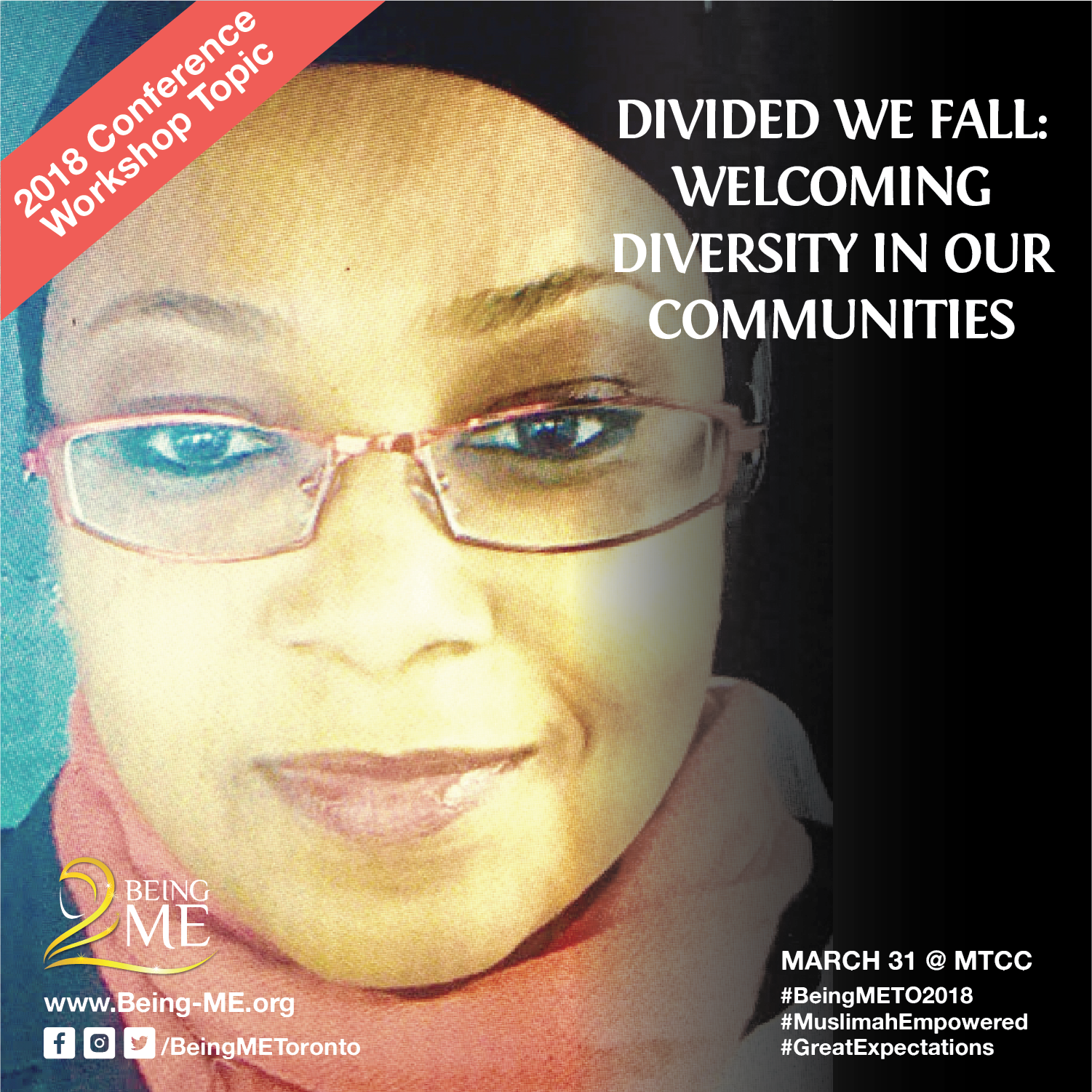 Workshop: Imani Hennie
Imani Hennie is a Clinical Social Worker who currently works at the Toronto District School Board. She has a degree In Psychology and a Masters in Social work from York University. She worked at Southlake Regional Hospital for 18 yrs in the psychiatric, pediatric and maternal child units. She is committed to giving back to the community and is past board member of I.S.S.R.A.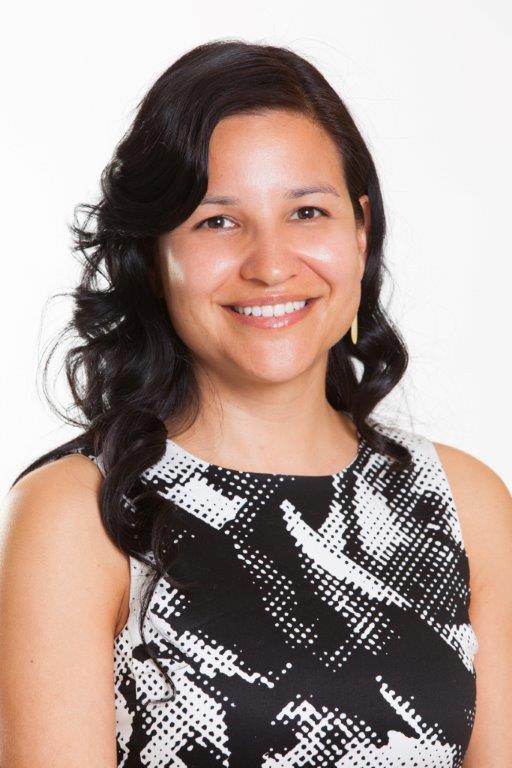 Workshop: Joanna Vautour
Joanna Vautour is Anishinaabe from Serpent River First Nation and of French Canadian heritage. She is a proud mother of her twin daughters Shyanne and Sienna. Joanna has a Bachelor's degree in Social Work from Ryerson University and has over 15 years of Social Work experience working in the Toronto Indigenous Community in the areas of Youth Recreation, Early Childhood Development, Child Welfare, Mental Health and in Cancer Care. Additionally, Joanna brings the Anishinaabe teachings taught to her by her mother into her work as a Helper in the Indigenous Community. Joanna is currently the Lead, First Nations Inuit and Métis Engagement for the Ontario Palliative Care Network and the Aboriginal Cancer Control Unit at Cancer Care Ontario where she is seeking input from First Nations, Inuit, Métis leadership and communities/organizations to identify the gaps and recommendations to improve the palliative care performance.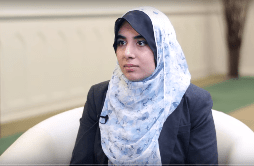 Workshop: Kashmala Qasim
Kashmala Qasim is a PhD Candidate, York University. She completed her undergraduate studies in Psychology from the University of Toronto and completed a Masters in Neuroscience from McMaster University, with a focus on mental health and obesity. She has also completed the Taleem ul Qu'ran Diploma course from Al Huda Institute, and is currently teaching there. Kashmala has been a lecturer in the Department of Psychology at the Islamic Online University, and has also received Level 1 Pastoral Counselling training from the University of Toronto.
Workshop: Namarig Ahmed
Namarig Ahmed is a nurse who has worked in areas of mental health, addictions, palliative care and sexual assault and domestic care. She has completed her Masters in Nursing in the Health and Illness of Individuals and Communities course stream. Namarig has started a matchmaking organization called Sage Muslim Socials, in order to facilitate marriage for those looking.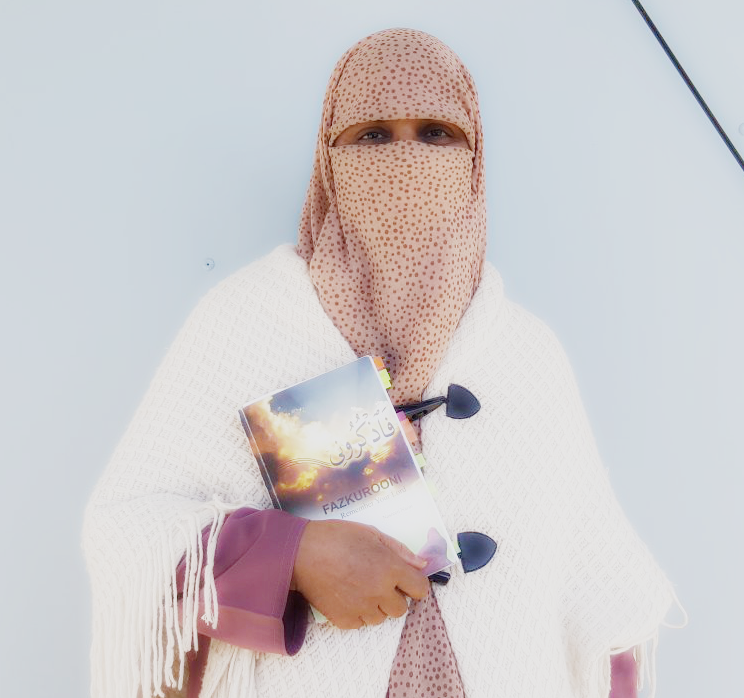 Workshop: Nasreen Nazar
Founder of Darulimaan Institute, Ustadah Nasreen started this non-profit with the purpose of educating Muslim women and youth in Quran, Seerah and the Quranic Arabic language. She has extensive experience in counselling and has published multiple books. Ustadha Nasreen Nazar holds a Masters in Islamic Studies and Arabic and a Bachelors in Education. She has studied Tafseer under Sheikh Gohar-ur-Rehman at Dar-Ul-Uloom Lahore, Pakistan. Ustadha Nasreen has served as the Principal of Dar Ul Iman Bahrain and Institute of Islamic Sciences in ICNA New York. Ustadha Nasreen has over 30 years of experience in teaching Tajweed and Tafseer in person and online.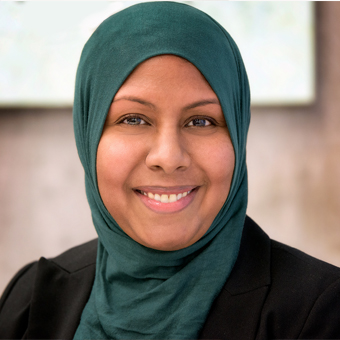 Workshop: Natasha Persaud
Natasha Persaud is a Partner at Formative LLP where she practices Human Rights and Employment Law. She is also an Adjunct Faculty Member at Osgoode Hall Law School where she supervises students at the Community and Legal Aid Services Programme, focusing on issues of poverty in the Administrative law context. Formerly a lawyer with the Human Rights Legal Support Centre, Natasha has litigated before various courts and tribunals and has appeared as a panelist in forums addressing issues of race, gender and islamophobia. Natasha is a Steering Committee member of the Canadian Association of Muslim Women in Law (CAMWL), a former Advisory Council member of CAIR-Can (now National Council of Canadian Muslims) and has provided research assistance with respect to Charter issues including Ishaq v. Canada.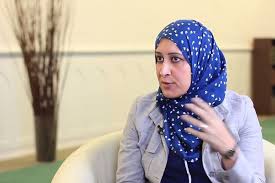 Workshop: Noor Javed
Noor Javed is a print and broadcast journalist; currently a reporter for the Toronto Star. Noor's work has been featured in various national newspapers and on websites, and has been used in radio broadcasts across Canada. Her journey in journalism began during her undergraduate work at University of Toronto, where she was a staff reporter for campus media. She graduated from the University of Western Ontario in 2006 with a Master's degree in journalism.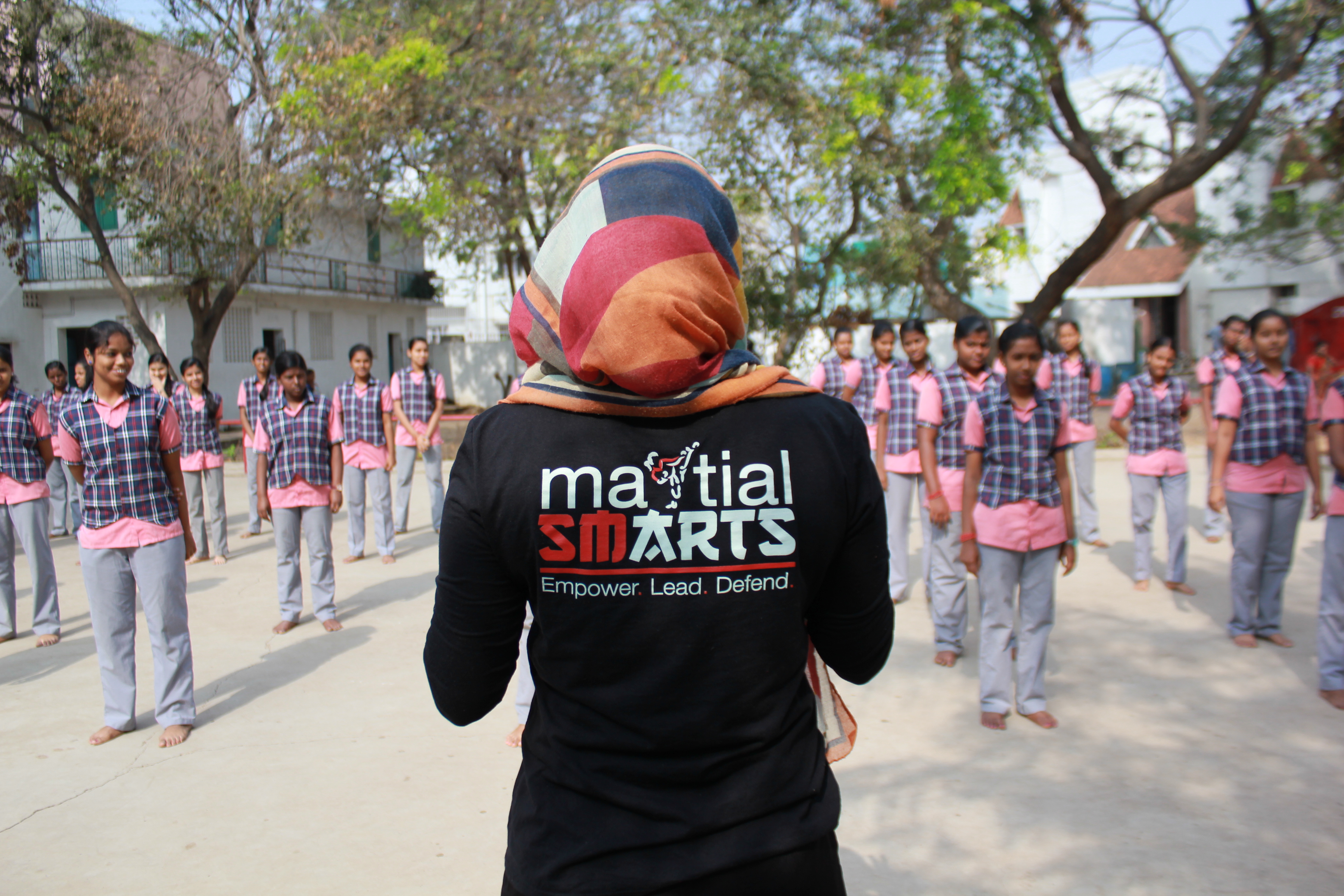 Workshop: Ryhana Dawood
Dr. Ryhana Dawood is a strong advocate for women's health. As a resident physician and double black belt, she has worked with thousands of women, children and the elderly across the GTA and overseas leading self-defense workshops. Ryhana has been doing this work for over a decade and founded Martial Smarts, a non-profit organization, that aims to empower women around the world through the principles of martial arts and fitness.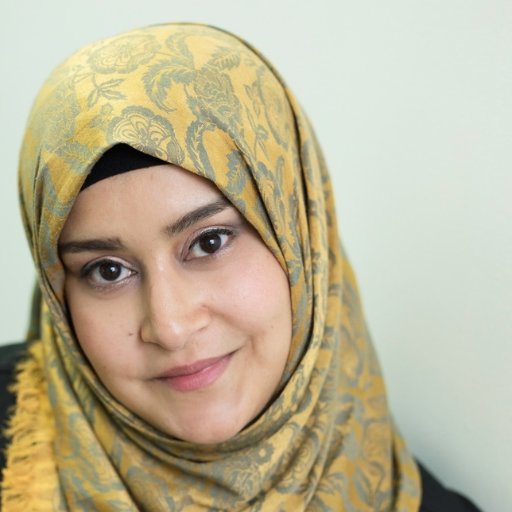 Workshop: Sajidah Kutty
Sajidah Kutty is a teacher based in Toronto whose writing on Muslim culture and life has appeared in the Toronto Star. Her family of Muslim scholars is consistently listed in the The 500 Most Influential Muslims in the World, and her insight into Muslim culture is both personal and far-reaching. A mother of a teenage daughter herself, Sajidah's debut Young Adult novel is a beautiful and nuanced story about a young woman exploring her identity through friendship, family, and faith.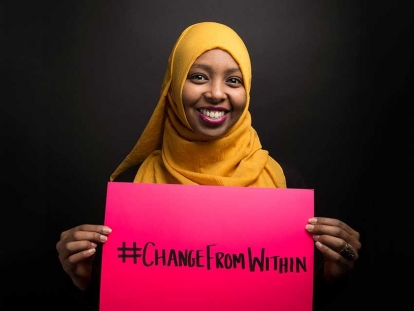 Workshop: Samiya Ahmed
Samiya Abdi currently holds the position of a Health Promotion Consultant & Program Planning and Evaluation Specialist. Samiya has over 10 years of experience in program development, management, implementation and evaluation working within the non-profit, corporate and government sectors. Samiya is a mother, teacher, community advocate, Youth councillor, avid public speaker and a change agent. She is passionate about creating safe nonjudgmental spaces that foster growth, allow for failure and transformational learning. Samiya holds a Master's degree in Public Health and a Graduate diploma in Social Innovation and Systems Thinking from the University of Waterloo.
Workshop: Zainab Zafar
Zainab Zafar is an M.Ed. student at the Ontario Institute for Studies in Education (OISE) in Curriculum, Teaching and Learning. She is an Ontario Certified teacher who is currently working with the Toronto District School Board. Her past experiences include working with community based youth groups and Islamic schools.